How to save desktop icons positions in Windows
Have you ever wanted to have the desktop icons/shortcuts in the same position each time you change resolution, or somebody messes with their order, leaving you searching the shortcut you need through many others? Well, leaving aside commercial or free software that can do that , there is a simpler solution.
This solution uses a free dll file, included by Microsoft in Windows NT Resource Kit.
1. Download this archive and extract the content somewhere in your computer
2. Copy the layout.dll file to your Windows\System32 folder
3. Copy this code to a new text file, save it with a .reg extension and run it, or use the file included in the archive
To save the icons positions, right-click on the desktop and select Save Desktop Icon Layout, and to restore, right-click on the desktop - Restore Desktop Icon Layout.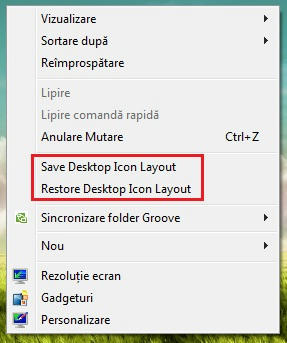 This works in Windows XP, Vista and 7 RC1. If the context menu options appear, but there is no confirmation message when choosing to save the positions, a computer restart may be required.