COS Password Generator
Why use a password generator? Well, whenever you need a strong password, you need to use such software, because common used passwords, like names, birth dates or anything related to your person and those surrounding you can be guessed or easily cracked by hackers, spammers, malicious software etc. A strong password should appear to be a random string of characters.
A few tips for creating strong passwords:
Make it lengthy. Each character that you add to your password increases the protection that it provides many times over. Your passwords should be 8 or more characters in length; 14 characters or longer is ideal.

Combine letters, numbers, and symbols. The greater variety of characters that you have in your password, the harder it is to guess.

The fewer types of characters in your password, the longer it must be. A 15-character password composed only of random letters and numbers is about 33,000 times stronger than an 8-character password composed of characters from the entire keyboard.

Use the entire keyboard, not just the most common characters. Symbols typed by holding down the "Shift" key and typing a number are very common in passwords. Your password will be much stronger if you choose from all the symbols on the keyboard, including punctuation marks not on the upper row of the keyboard, and any symbols unique to your language.
These tips are an excerpt from a Microsoft article. You can find the full article here, and other passwords related pointers here and here.
Program features:
no installation required (just download & run)
generates completely random passwords
create passwords up to 30 characters (more is possible, but it's not really necessary if the password contains all types of characters)
copy password(s) to clipboard
save password(s) to file
Screenshot: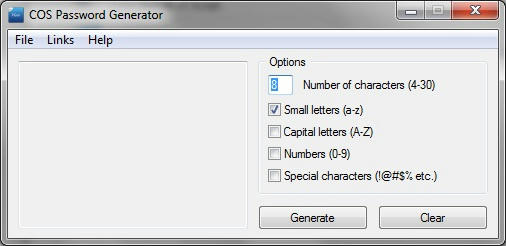 Download from:

Download in zip/rar format:
MediaFire